ZP renews its website about steeltube.sk products
News from our parent company: the new Železiarne Podbrezová website has just been inaugurated to make product research more user friendly.
New graphics, more search filters, in one word greater ease in finding information on the offer portfolio.
With the new version of www.steeltube.sk, the user can easily perform a series of actions with just one click, such as requesting a quote, downloading the catalog or product certifications or contacting their account manager directly.
New research and assistance tool
New tools have been made available to facilitate user navigation, including:
Steel Navigator – to search for a product based on the chemical composition and mechanical properties of the steel;
Steel Grade Comparison – to easily compare the specifications of various steel grades and to find equivalent grades;
Tube Unit Converter – to convert inches to meters or to calculate the weight of tubes.
In addition, the new filters allow you to quickly find the desired products according to your needs. For instance, it is possible to search for products by size, quality, type of steel, but also technical delivery conditions, etc.
The navigation menu becomes more intuitive
Specifically, 4 sections concern the products and are:
Tube size, with size tables according to standards and uses;
Product range, containing detailed information – such as dimensions, standards, mill test certificates, packaging methods, markings, etc. – on individual product types;
Certificates, with product certifications, management system, quality management, etc.;
Customer service, for general information on packaging, labels, technical-delivery conditions, tests, user tools, prints, flyers, etc.
In addittion, there is a section just for customer: "Zone for Customer". A reserved area, where the customer logs in using the credentials issued by ZP to:
Monitor the status of his order and financial claims;
Search and print his commercial documents (mill test certificates, purchase contracts, notices, packing lists, loading lists, invoices);
Accept purchase contracts electronically.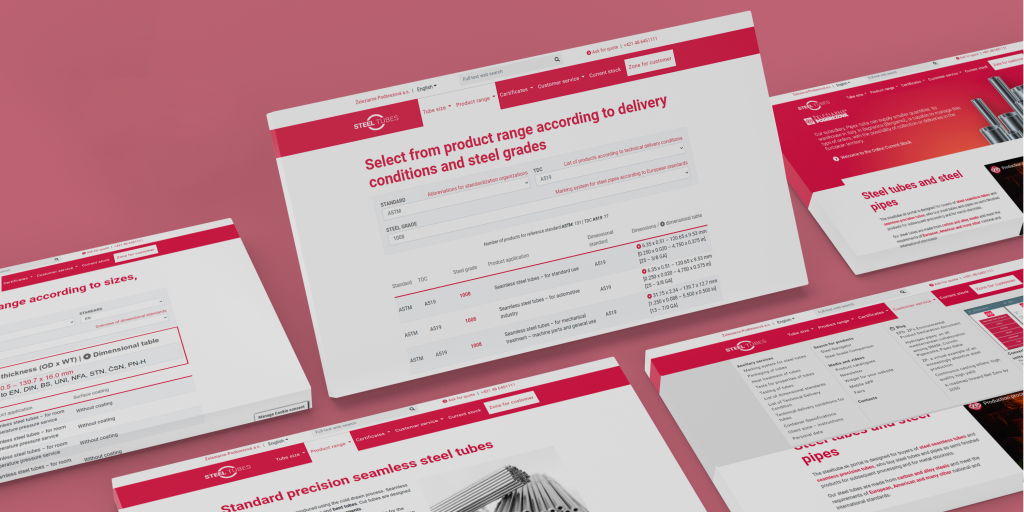 News do not end here
Another important addition is the blog, where visitors can find articles on various in-depth or current issues such as the use of pipes, the environmental impact of metallurgical production, interviews with customers or views on the sector.
At the moment, the site is only available in Slovak and English but very soon it will also be launched in the Czech and Polish version and then again in German, Spanish and Russian.
Article written by:

Ing. Marcel Adamcak
Marketing Director at Zeleziarne Podbrezova
For more information, details or requests, don't hesitate to contact us at marketing@pipex.it.
Don't miss out on our news and initiatives, read our BLOG and subscribe to our Newsletter