Pipex point of view about the future of hydrogen
Hydrogen is nowadays mentioned as the fuel of the future, capable to change radically the energy world in the next decades. However, the topic is complex and different strategies are under development. In Pipex we are already dealing with pipes for its transport and more. We looked into the topic with Luca Orefici, Green Manager of Pipex Italia.

Luca, let's start from the beginning, when did Pipex start taking an interest in hydrogen?
In 2018 was clear that there was a necessity to prepare ourselves for a transformation of the energy world. In our studies, hydrogen, blue or green it may be, emerged even then as an element to be monitored carefully. Then, in 2019, in the wake of the IPCC (Intergovernmental Panel on Climate Change) report "Global Warming of 1.5°C" that described clearly the risks associates to climate change, hydrogen assumed a primary relevance within the scientific debate. As company, we have hence started to think about the opportunities that might arise in our sector.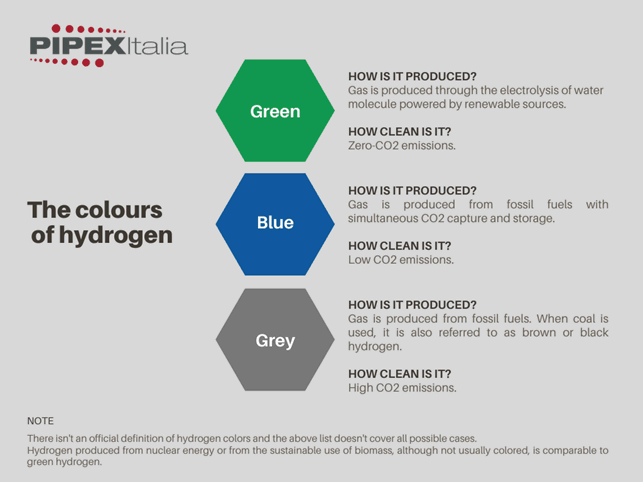 Why should it be any different today?
Until 1 year ago, I used to say that the new impulse in favour of hydrogen originated from the ideal coupling with non-programmable renewable sources, such as solar photovoltaic and wind. However, today I believe that the stimulus is of a different nature: we are aware that without hydrogen there are entire sectors of our economy that would be extremely complex to decarbonise by 2050. Think about the long-distance transport connected to trucks, ships or airplanes. Alternatively, think about industry, where hydrogen can serve both as a process reactant and as a fuel to provide high temperature heat.
Much has been said about the steel industry indeed.
Hydrogen is now seen as the best long-term solution for the production of steel from iron ore without greenhouse gases emissions. Hydrogen can in particular replace coke as a reducing agent. The best-known project is Hybrit, carried out by the Swedish SSAB in collaboration with LKAB and Vattenfall. Launched in 2016, the pilot plant was put into operation this year and aims to achieve a fossil-free process by 2035. Thinking about the steel industry as a whole, we should not forget the significant thermal loads that characterize the production of our goods. These have to be decarbonised within 30 years and hydrogen could be one of the solutions.
Recently a personality from the world of steel, Giuseppe Pasini, President of Feralpi and of AIB – industrial association of Brescia- former President of Federacciai (Steel National Industrial Association) and of Italian Technical Group for Energy , declared that although hydrogen is the future, we must not forget the importance that natural gas has and will have. What do you think about that?
That he's right. Although that's a controversial subject, I believe that natural gas is an element to be strategically exploited to reach the climate goals for 2030 and 2050. Going back to hydrogen, we should not overlook for example the effect that its production starting from natural gas, with the simultaneous capture and storage of the carbon dioxide generated, can have. Large volumes at relatively low costs could thus be produced in order to facilitate the initial diffusion of hydrogen.
Keep talking of steel, let's go back to Pipex Italia. What prospects is Pipex considering for the pipe business?
The transport of hydrogen through pipelines is the safest and, for sufficient volumes, cheapest solution. In a recent publication, 11 European TSOs (Transmission System Operator) have envisaged a hydrogen transmission network of 22,900 km by 2040, three-quarters of which from the retrofitting of existing natural gas pipelines. Then there is the aspect of the capillary distribution network and of the piping and tubing connected to hydrogen production and consumption facilities. Then the problem shifts to the selection of the materials. Let's start by saying that the pressures at play could be relevant. Pipelines that connect industrial plants, such as refineries or other chemical plants, where grey hydrogen, is used today, usually operate with pressures between 30 and 85 bar. However, it is reasonable to imagine that, depending on the application, even higher pressures could be reached. For example, a 1,000 bar distribution network has been theorized to meet the refuelling needs of fuel cell vehicles. The steels that will be used to withstand the mechanical stresses will then have to take into account hydrogen embrittlement phenomena. Looking at general trends of the latter aspect, the susceptibility of metals to hydrogen embrittlement increases with the strength of the material. It is therefore no coincidence that examples of pipes commonly adopted for the transport of hydrogen are the ASTM A106 Gr. B or the API 5L grade X42 and X52. As Pipex we represent on the Italian market Corinth Pipeworks – one of the most important producers of large diameter welded pipes – which recently announced the successful qualification of high grade X70M pipes for hydrogen application at 80 bar (typical value for the transmission pipelines) in accordance with the requirements of the ASME B31.12 standard. It is furthermore important how our mother company Železiarne Podbrezová is on the move in this field. With its production of seamless pipes, Železiarne Podbrezová has now become part of the European Clean Hydrogen Alliance. These are two examples that involve us directly and testify how the world of pipes is ready to evolve in order to facilitate the development of hydrogen, providing solutions that could make the energy transition as economical and fast as possible.
One last question: is it possible to take a position and make any predictions on the importance of hydrogen within the European energy mix by 2050?
It is very difficult. And any forecast shall not be seen within the context of a competition between technologies. The energy transition is indeed a complex topic. It is an arduous path towards decarbonisation that can be completed in the shortest possible time and minimizing the efforts only through the synergic use of different solutions. Hydrogen is certainly one of these.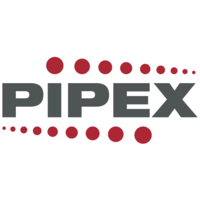 Marketing and Communication department
For more information, details or requests, don't hesitate to contact the authors of this article.
Don't miss out on our news and initiatives, read our BLOG and Subscribe to our Newsletter