Luigi Cuzzolin for La Stampa – business and energy crisis
Our CEO Luigi Cuzzolin sums up, in the Italian newspaper "La Stampa", the industrial situation and how his group Železiarne Podbrezová is facing the energy crisis.
We report below the translation of the article by Valentina Sarmenghi.
Pipex Italia, synergies with Slovakia help not to feel the energy crisis
From an economic point of view, the conflict in Ukraine has generated a new serious crisis due to increases in energy prices and shortages of some raw materials, putting many companies in difficulty. This is not the case for Pipex Italia, based in Arona, head of marketing and sales of the Slovakian Železiarne Podbrezová, a company among the major European producers of seamless steel pipes. "I am very worried from a human point of view – underlines the managing director Luigi Cuzzolin. On the industrial front, however, the situation is quite calm because from the first signs we began to protect ourselves with storage of raw materials. Our business has not slowed down, international customers have continued to choose us because we are more regular in supplies than others. From an energy point of view, we can count on the fact that in Slovakia a large part of energy comes from nuclear power and we have our own hydroelectric plants". According to Cuzzolin, Italy, France and Germany will suffer the worst economic consequences of the war in Ukraine, while the United States will be minimally affected since the cost of energy overseas is a quarter of that of some European areas.
"In Slovakia they have a profound knowledge of the Russian mentality and culture – continues Cuzzolin – so they were not as surprised as we were when the invasion took place. They have a much more concrete vision of what is happening."
Pipex's CEO also holds the position of honorary consul of the Slovak Republic: "As a member of the ZP group, I had relations with the embassy and I was asked to assume this role – he explains -. At the beginning it was mostly about managing relations between Italian and Slovak companies, while today the consulate based in Milan offers a wide range of services to citizens of the two countries and promotes cultural and artistic events". Pipex Italia also had its headquarters in Milan: "At a certain point we decided to move to Lake Maggiore – says Cuzzolin -: Arona is located in a strategic point, from which you can easily reach the big cities and Malpensa airport. Furthermore, here we can welcome our customers in a wonderful territory, they come from all over the world and they are always fascinated by the beauty".
A territory that Pipex supports directly with contributions: from major events such as the Frecce Tricolori to the new playground at the Rocca Borromea. "On the occasion of the Expo we had also created a sort of tourist guide – says the managing director -: there is great potential, unfortunately there is no teamwork. There are too many contrasts, for example between the two shores of the lake, Piedmont and Lombardy. We need a common plan to promote the territory in its entirety and not only local administrations could facilitate collaborations, everyone would gain from it. There are also shortages for accommodation, apart from Stresa there are no structures that can fully satisfy the tourist demand".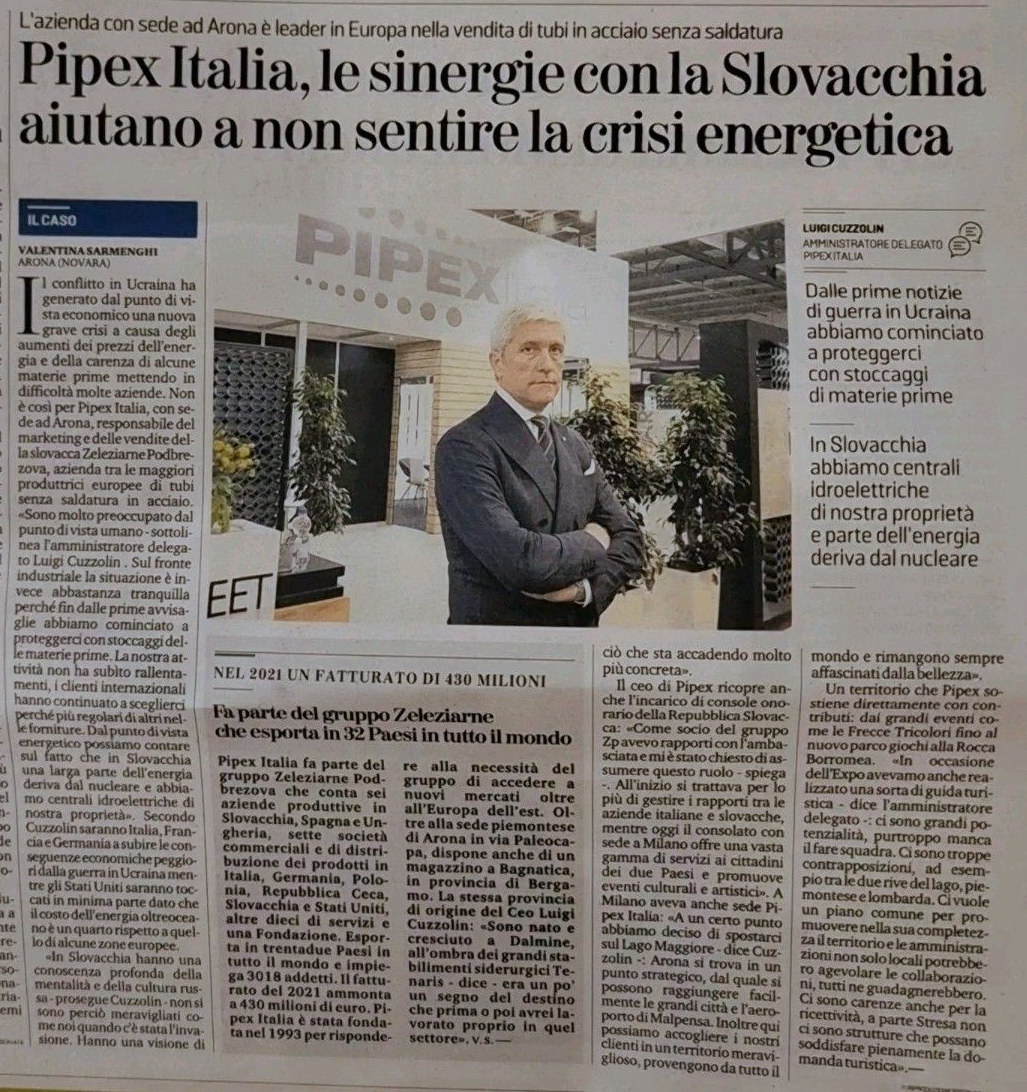 In 2021 a turnover of 430 million. It is part of the Železiarne group which exports to 32 countries around the world
Pipex Italia is part of the Železiarne Podbrezová group which has six production companies in Slovakia, Spain and Hungary, seven commercial and product distribution companies in Italy, Germany, Poland, the Czech Republic, Slovakia and the United States, another ten service companies and a Foundation. It exports to thirty-two countries around the world and employs 3018 people. The turnover for 2021 amounts to 430 million euros. Pipex Italia was founded in 1993 to respond to the group's need to access new markets in addition to Eastern Europe. In addition to the Piedmontese headquarters in Arona in via Paleocapa, it also has a warehouse in Bagnatica, in the province of Bergamo. The same province of origin of the CEO Luigi Cuzzolin: "I was born and raised in Dalmine, in the shadow of the large Tenaris steel plants – he says – it was a bit of a sign of destiny that sooner or later I would have worked in that sector".
Article written by:

Marketing & Communication Department
Pipex Italia
For more information, details or requests, don't hesitate to contact us at marketing@pipex.it.
Don't miss out on our news and initiatives, read our BLOG and subscribe to our Newsletter