Exploratory journey of young students into the world of steel industry
Investing in the new generations is essential to ensure a successful future and sustainable development not only for the steel industry but for the entire country. That is why we have decided to share our experience with the third and fourth grade classes of the "Enrico Fermi" High School in Arona, town situated in the North of Italy, where we have one of our main offices.
Our main goal was to provide this 700 young minds of the NextGen with knowledge and useful tools to make them protagonists of the transformation that the steel industry is currently undergoing in terms of innovation, sustainability, and energy transition.
After a brief introduction on the central role of steel in our lives, our CEO, Luigi Cuzzolin, wanted to show the students the constant evolution and challenges that the steel sector is facing. The students showed particular sensitivity to the topic of sustainability presented by our Green Manager, Luca Orefici, and the presentation of Pipex Energy, which aims to bring a revolution precisely in these terms, sparked strong curiosity among them.
Raffaella Poggio, Head of Marketing & Communication, took care of dispelling the stereotype that limits our industry to manual labor alone, demonstrating that there are multiple career opportunities and that each characteristic of these young students can bring about significant changes in the world of steel.
On the other hand, Andrea Faraci, Sales Product Manager and CIO, presented to the students everything that Pipex Italia does for the well-being of local communities and the region.
We would like to express our gratitude to the third and fourth grade classes of the scientific, classical, and technical-economic high schools in Arona for actively participating in the meeting, demonstrating great interest and deep curiosity towards our world. We were especially impressed by the passion and determination they showed in the perspective of making a concrete contribution to the future progress of the steel industry.
Following this initial meeting, during this summer time we are welcoming some of these students for a school-work alternation experience, offering them the opportunity to deepen their knowledge in the field.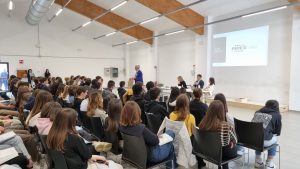 Article written by:

Marketing & Communication Department
Pipex Italia
For more information, details or requests, don't hesitate to contact us at marketing@pipex.it.
Don't miss out on our news and initiatives, read our BLOG and subscribe to our Newsletter